GOODCOM Handheld POS Terminal with NFC reader Mobile Recharge Machine
Regular price
$207.00 USD
Regular price
$0.00 USD
Sale price
$207.00 USD
Unit price
per
Sale
Sold out
GOODCOM Handheld POS Terminal with NFC reader Mobile Recharge Machine
---Key Functions:
1)128*64 LCD Display, 21 keys, menu operation interface, easy operation
2)Platen removal mechanism, easy loading paper and maintenance
3)Prints SMS message
4)Prints GPRS message
5)Standalone device, no need to connect to PC
6)Can keep 100 pieces SMS in memory
7)Can also send SMS if required
8)Make call
9) Paper: Thermal paper roll, 58mm / 2inch wide
10)Character: 12*24 dots
11) Number of columns: 32 columns/line
12)Printing Head Life: Paper traveling distance 50KM
13) Supports https, SOAP, POP3 protocol

14) Multi-language supported: English, Chinese, Spanish, French, German, Portuguese, Italian, Thai, Russian, Danish etc, customizable
15) Supports remotely upgrade software and manage configuration
 ---A brief description of the 6000SA credit card function:

IC card: China is more used to say IC card, chip card, but foreign country generally known as Smart Card, The Smart Card Reader module used complies with the EMV bank card technical standard;

Magnetic card: 6000SA supports 3-track track read (Track 1/2/3), while other manufacturers only support2 track, resulting in some of the magnetic card can't be properly identified;

NFC card: support NFC / RFID reader, reader frequency of 13.56MHz, in line with ISO14443 A / B standard RF card can be properly identified, such as Mifare 1 S50, Mifare 1 S70, Mifare UltraLight, Mifare Desfire, etc.
---Specification:
Items

Technology standard

Model: GT6000SP

Hardware/ software /Mechanical

CPU

SIM800

Memory

Flash: 8MB   RAM:4MB

GSM module

SIM800

Display

128*64 pixels

Keyboard

21keys

Battery

1500mAh Li-ion battery, supports printing by battery supplied. Can be used for more than 96 hours in idle mode by battery supplied.

Developing environment

OS of SIM800 for design

Dimensions

202mm*90mm*57mm

Weight

0.43kg

Power supply

AC input voltage

90V~250V AC

Power adapter output

DC 12V/2A

Application environment

Operating temperature

-15℃~55℃

Relative humidity

10%~95%

Environment noise

≤60dB(A)

Atmospheric pressure

86~106kPa

GSM parameters

RF transmit frequency

GSM850       824-849MHz

E-GSM900     880-915MHz

DCS1800       1710-1785MHz

PCS1900       1850-1910MHz

Frequency stability

<2.5ppm

Receiver sensitivity

<-104dBm

GSM protocol

ETSI GSM Phase 2+

Transmit power

<2W(GSM,EGSM), <1W(DCS,PCS)

SIM card interface

1.8V& 3V

Antenna

Internal,50ohm impedance,3dB gain

Micro Printer

Printing method

Thermal-line dot method

Paper

Thermal roll paper (standard) 57*45 mm

Effective Printing area

48mm

Speed

Maximum 70mm/sec(480 dot line/sec)

Printing resolutions

8 dots/mm

Character

12*24dots

Number of columns

32columns/line

Printing head life

Pulse resistance:100 million pulses/dot (under our standard conditions);

Abrasion resistance: paper traveling distance 50km (print ratio:25% or less)
---Customizable Applications:
1) Coffee Shop/Bagel Stalls: receive order either directly from the a website dispatch
2) Online shop
3) Banking Transactions(Mobile Payment, Mobile ATM, etc.)
4) Hotel
5) Flower Shop
6) Football Lottery/Betting
7) Airtime Top-up:
8) Taxi Cab Receipts/Delivery Drivers
9) Stock Inventory/ Asset Tracking
10) Bill Payment(Electricity/Water/Gas,Internet/Broadband,Insurance,Charity,etc.)
11) Ticket Printing (Bus ticket,Carpark Tickets,Airline ticket,Movie Tiket,etc.)
12) Medical Test Results printing
13) Taxis/cab firms/delivery drivers to receive instructions on new pickups/deliveries
14) Any other situation where messages need to be conveyed to a remote party
---Clear Picture
NFC Card Reader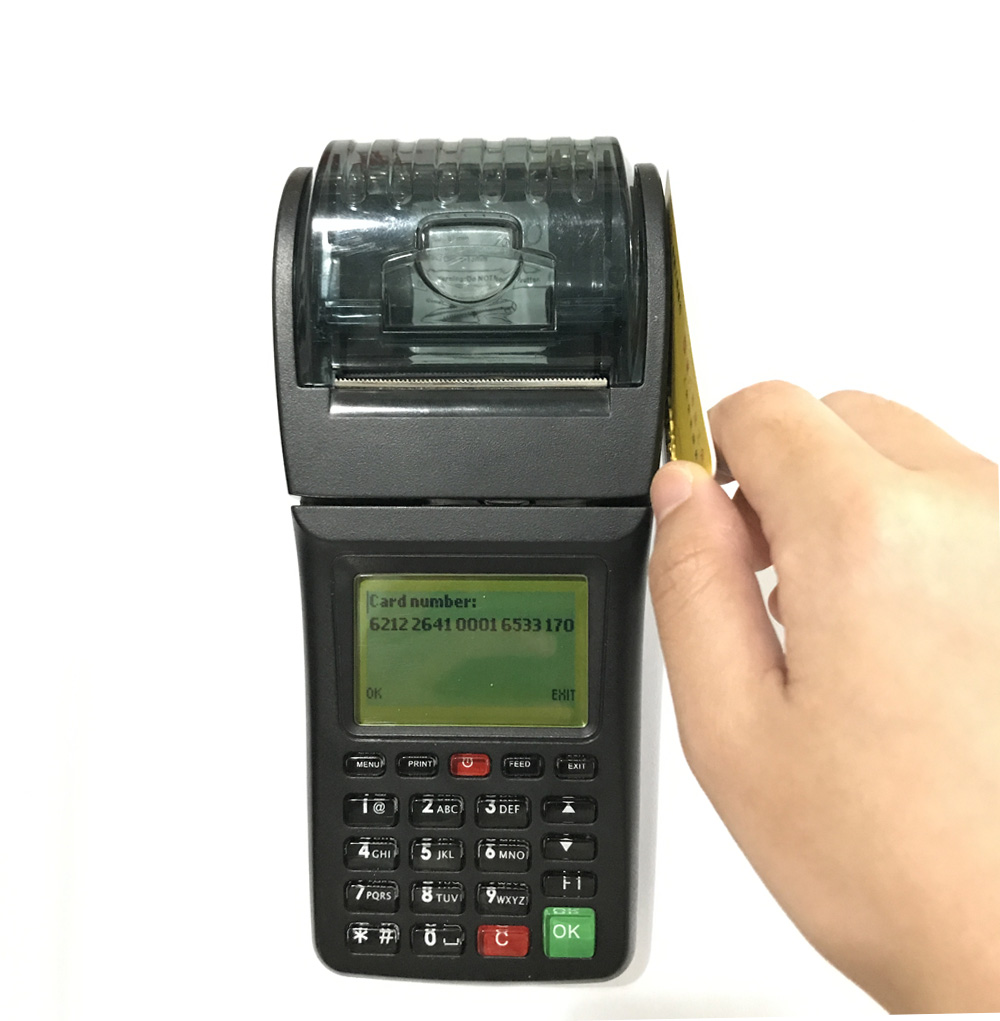 IC Card/ Smart Card Reader
Magnetic Card Reader
---Why choose us?
Product Customization:
We can brand your logos according to your needs. The PVC logo, 
silkscreen logo, steel logo can all be customized to give the products in line with your company image and style.
Custom Design:
Our product design team can help you design your customized product with different form factors,
custom features and functionalities. From electronics, industrial design, artwork design, tooling and
packaging, our experienced electronic, mechanical and industrial design team can offer a tailor-made solution and deliver a unique product for your company.
Software Development Kit:
Our devices have the best coverage of different models running on different platforms. An easy-to-use SDK is available for integration into your own App. The SDK comes with an integration guide and a sample project example. This is your best choice for a customized payment application.
Warranty:
We provide one year warranty for main device as well as instant online service to help you
For more information, please visit www.gsm-printer.com 
Share